DuoCircle's Advanced Threat Defense automatically generates SSL-certified domains for anti-phishing protection
At DuoCircle, we prioritize privacy and understand the need for encryption on the Web. We are passionate advocates for free speech, and the need to make encrypted connections ubiquitous online. We are happy to announce our sponsorship of Let's Encrypt a market and thought leader in SSL and privacy online. While we are not a web hosting company that would benefit from issuing SSL certificates with each website we still believe in using the best of breed technology in all of our offerings. We specifically engineered our Advanced Threat Defense system for malware and phishing protection to utilize Let's Encrypt certificates for our client domains. 

Some background on why Let's Encrypt is important to the Internet as a whole. They give users the ability to automatically register and certify new domain names without requiring additional IT resources. Instead of requiring users to go through the complex process of obtaining a commercial SSL certificate, Let's Encrypt allows users to certify an unlimited number of domain names at no cost.
While this is a useful cost-saving option for web developers and designers, it has wider cybersecurity applications for enterprise IT professionals. In the enterprise IT environment, the risk of phishing and domain name forgery are high and this is why we have blended Let's Encrypt certificates with our Phish Protection to allow enterprise users to leverage Let's Encrypt technology to immediately and automatically generate secure domain names that are used to track clicks to external websites.
When combined with Advanced Threat Protection, it gives users an immediate way to reliably verify safe links and domains. PhishProtection is unique in allowing a custom-branded, SSL-certified redirection domain name which helps train users about phishing scams. 
Because LetsEncrypt's services are critical to our Advanced Threat Defense system, we have joined some of the tech industry's most reputable names – such as Mozilla, Cisco, and Google – in sponsoring their initiative to offer free, automatic SSL certification services.
How automatic SSL certificates help thwart email phishing
The data on cybersecurity is clear email is the number one threat vector for malware, ransomware, business email compromise, and other sophisticated cyber attacks.
In a typical ransomware scenario, cybercriminals will use publicly available information to masquerade as trusted email contacts and trick employees into downloading ransomware executables. The ransomware will then spread from the first system it infects to all of the organization's systems, including network systems and backups.
Upon reaching a critical volume, the cybercriminal will activate the ransomware application and encrypt all of the organization's files, demanding payment for the decryption key.
This strategy often works because employees deal with dozens or even hundreds of emails per day and cannot comprehensively verify them all. Only a comprehensive threat detection system that can determine the origin servers of incoming emails can reliably verify incoming messages.
Today's most pressing cybersecurity challenge is reliably and accurately detecting threatening emails before users download the files they contain. LetsEncrypt's automatic SSL certificate service represents a key step forward towards that goal.
Forging an email is surprisingly easy. Today's cybercriminals have no problem forging emails from reputable, well-known companies or even from executives within the corporations they seek to attack.
This makes it difficult for employees to determine which emails can be trusted. An urgent message from the company CEO may actually be a sophisticated cyber attack, and most employees would not think twice before opening it. There are tools like DMARC, SPF and DKIM that can protect against these easily spoofed messages but it does require IT's intervention to setup and maintain. 
PhishProtection uses LetsEncrypt to give organizations the ability to register and certify trusted domain names automatically. This makes it more difficult for cybercriminals to forge those domains, even when using IDN homograph attacks.
Accessing a registered, encrypted domain name brings up a message that looks like this: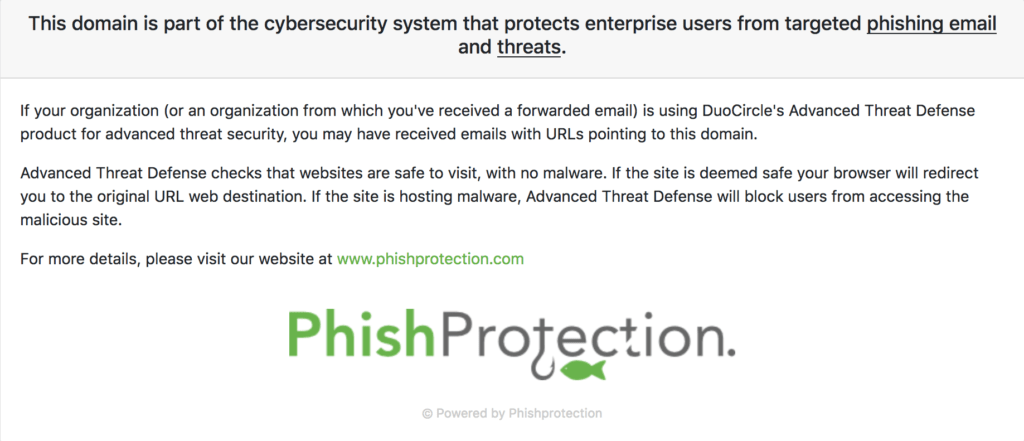 By educating their user base to look for encrypted domains, IT administrators can mitigate the threat of being victimized by email phishing. Employees, users, and stakeholders have clear trust indicators to look for before opening up links and email attachments.
Phish Protection offers comprehensive threat defense
DuoCircle Phish Protection combines the innovative phishing, malware, spam, and spoofing protection of our Advanced Threat Defense product into a scalable email security solution for small businesses, corporations, and enterprises.
In today's cybersecurity environment, providing comprehensive phishing defense requires generating branded, SSL-certified domain names that let users know they are accessing a trusted site.
In practice, this solution applies a secure subdomain to your existing domain name. Therefore, http://YourDomain.com would become https://URLF.YourDomain.com. This lets you demonstrate to users and employees that your domain is protected.
While this may seem like a subtle difference, it offers significant defense against a broad variety of cyber attacks. Being able to reliably inform users that the website they are visiting is secure carries important implications for the development of a robust cybersecurity policy.
Hackers continue to flood the Internet with fake domain names. Securing your company's domains against domain name forgery gives you a critical advantage towards preventing email forgery and cyberattack.
Phish Protection for email servers offers world-class protection from phishing attacks in a scalable flat-fee format. All protection levels come with 24/7 support, with supported userbases of between 1 and 750 individual employees.