Email marketing sounds a little outdated, doesn't it? In fact, email marketing is bigger than ever.
Since the impact of Covid-19, there's been an ecommerce boom, and email is something consumers are comfortable with and respond to in huge numbers.
All communication techniques have their own distinctive characteristics. This is as true of email as it is of telephony, whether traditional or more cutting edge, like a virtual PBX system.
One of the distinguishing features of email is convenience. Another is not so welcome: high-security risk. This, of course, can greatly impact your company's performance and will risk damaging customer confidence.
But there are effective means to counter this threat. So, let's take a look at the eight top email marketing techniques known to humankind.
What Can Be Done?
There are eight best practices to take on board when you are thinking about how best to protect your customers and your business.
Whether your organization is mainly manual or features robotic process automation, you will need to assess both elements as a matter of priority. Having RPA means you can depend on consistent actions in keeping with your desired practice, but you need clearly to set this out in the first place.
1. Protect Email Content
This can be done by data encryption, which keeps the content of the email secure from illegitimate access.
Types of encryption to consider include in-transit encryption, which involves encrypting emails while they are en route from one server to another. Relatively straightforward and popular, it's used by both Outlook and Gmail.
Another is asymmetric encryption, which provides great security but is fairly complicated as it requires the recipient to have two keys to decrypt the content.
Be mindful of what your organization is sending out, especially with mass-mailing exercises. Hackers can intercept these and inject viruses into them. Customers, understandably, will not appreciate this. It may be worth considering adding a firewall to filter outgoing emails, further raising the security level.
2. Protect Mailboxes
Spam is annoying. What's worse is that it can often contain malware. Consider using anti-phishing software to protect your inboxes too.
Other tools available are:
Sender Policy Framework (SPF): this gives domain owners the power to authorize who sends emails from their domain
Domain-Based Message Authentication Reporting and Consistency (DMARC): this is an authentication protocol
Domain Keys Identified Mail (DKIM): this enables a digital signature that can be recognized by receiving servers.
Of course, you can also filter for message size and for sender identity. And it's always a good idea to scrutinize any incoming email before you elect to forward it within your organization. An obvious point, but worth noting.
3. Authorization and Authentication
Seemingly legitimate messages can often be malicious. This can be tackled with the use of a digital verification key. This will serve to authenticate emails.
Multi-factor authentication is being used increasingly commonly. It entails the user being sent a one-time key, often via SMS, which the user has to enter before access is permitted.
A key consideration is to pay attention to old accounts; those belonging to ex-employees, for instance. Update passwords or delete the accounts where you can.
4. Safety Protocols
SMTP (Simple Mail Transfer Protocol) does not come with security built-in. Consequently, your organization needs mail antivirus packages, spam-fighting software, and mail protocols such as POP3, which tackles correspondence that is flagged as suspect.
5. Educate
It might be tempting to pretend to your customers that there is no risk to your domain, and they can carry on shopping in blissful confidence that all is just swell.
However, public awareness levels of e-security are such that you can now touch on these matters without starting a panic. It actually contributes to user comfort to have these areas being discussed.
So, do let them know what to look out for and always point out the dangers of clicking links and opening attachments from unknown sources.
6. Practice Good Maintenance
With your system, it's always a good idea to practice as restrictive an access policy as possible, particularly when dealing with information like email addresses and passwords.
Make sure your IT department is keeping thorough and up-to-date records on who has access to which parts of the system.
Conduct regular threat audits on your system to identify weaknesses. Quite often organizational vulnerabilities will stem not from malice but from carelessness by one or more employees in key positions.
7. Don't Skimp!
The cheapest providers are seldom the most secure. To ensure a reasonable level of security, you may have to loosen the purse strings somewhat.
That is not to say all free services are untrustworthy. But do be wary. Learn from the experience of others.
It's also not the case that all paid-for services are the bees' knees. Take email lists as an example. It used to be the case that lists of addresses were a sound investment for a company looking to make a sizeable marketing impact. However, data protection legislation (depending on jurisdiction) has now ruled that you should never buy an email list.
8. Remote Control
Remote working has grown hugely over the last two years and with it has come increased security risks.
Public wi-fi is a key concern: it's a happy hunting ground for hackers, so do bear this in mind when designing your organization's approach to communications.
One of the best ways to combat the threat is to use a VPN (Virtual Private Network). A VPN ensures that only legitimate users can access your emails and sensitive information.
Should hackers manage to somehow intercept communications, their efforts will be thwarted by encryption. You can also look at private cloud computing solutions, which will assist with security concerns.
Conclusion
So, there are some fairly simple techniques you can use to combat email security threats. The secret is to keep using them, even when there's no clear or present cyber danger.
Also, track new developments as email security is constantly evolving and developing; it's a continuous process, so be ever-mindful of the threat.
But don't have nightmares. You've got this.
by Severine Hierso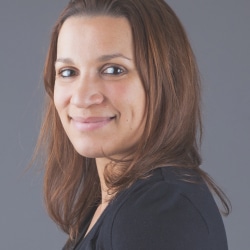 Severine Hierso is EMEA Senior Product Marketing Manager for RingCentral Office, an online meeting platform that leads in cloud communications solutions, and is passionate about creating value, differentiation and messaging, ensuring a better experience for customers and partners. She has gained extensive international Product Marketing, Market Research, Sales Enablement and Business development experience across SaaS, Telecommunications, Video Conferencing and Technology sectors within companies such as Sony, Cisco, Cogeco Peer 1 and Dimension Data/NTT.